What Exactly Is A Greenhouse?
A controlled environment for the purpose of growing. Usually with four transparent sides and a roof that allows natural sunlight in.
Greenhouse Materials
Metal (aluminium)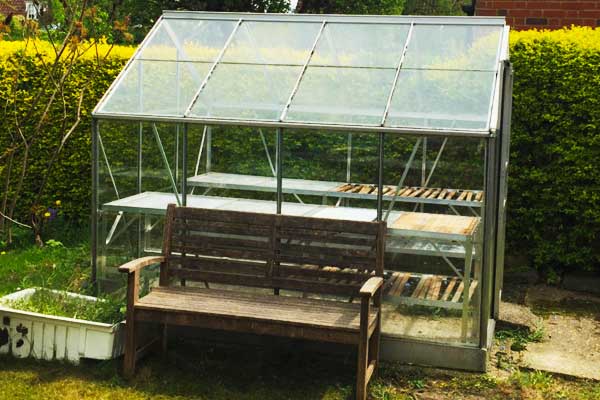 If you don't mind the obvious, ugly disadvantage of a metal greenhouse they can be in-expensive even if they don't look great.
Wood Greenhouses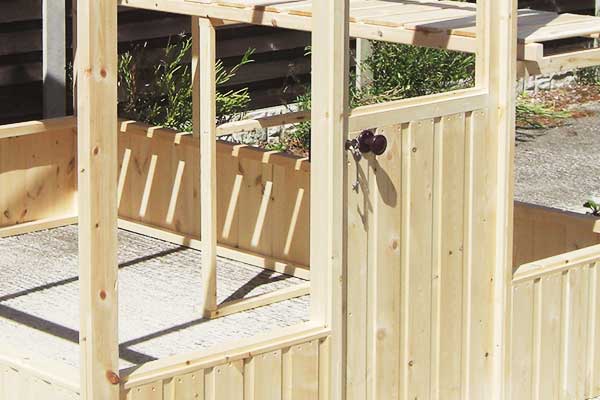 We are use to seeing wood outdoors. After all, it's where it grows. if greenhouses are designed and constructed well they blend beautifully in our gardens and can last tens of years.
White Wood
The cheaper end of the market generally use whitewood 5th's. Whitewood is a very fast grown timber with a large, spaced grain which is vulnerable to the U.K climate. If untreated these will only last a couple of years before the timbers start to twist and warp and even after treatment won't last much longer.
Red Wood
Red wood is a slower grown timber than white wood with a resulting tighter grain. This makes red wood perfect for the U.K's outdoors and if tanalised (pressure treated) will provide tens of years life expectancy. The best greenhouses are usually constructed from red wood 5th's or preferably 4th's if you can find them.
Greenhouse Glass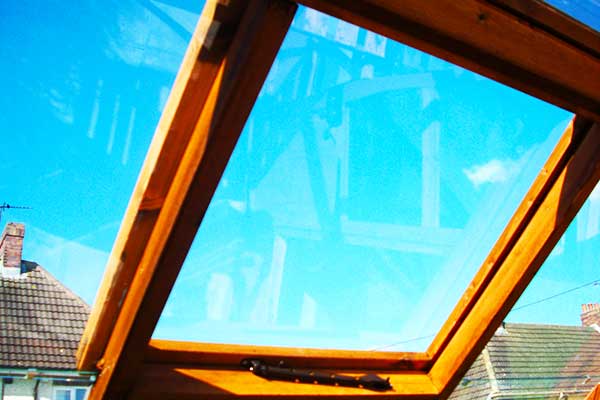 These days by law all greenhouse glass has to be toughened. It is illegal for any manufacturer to supply you a greenhouse with standard, non toughened glass installed. Your options are usually either toughened glass or acrylic glass if you consider your greenhouse may have to contend with more than the odd knock.
Greenhouse Construction
The Panels
The low end greenhouse manufacturers nail on the panels and if your lucky a few screws too. This takes little time to prepare and assemble resulting in a weak building that is very cost effective to produce.
Tongue & Groove Jointed Panel Timbers
The preferred method for joining panel timbers, the system has a groove cut from one timber and a tongue shaped from the adjoining timber. The two are simply brought together after gluing to form a much more solid joint allowing for much less movement over time and virtually eliminates twisting and warping.
The Framework
Often just nailed or / and screwed together, the framework is the greenhouses main support and is responsible for keeping the buildings shape over time. The thicker, the better and again choice of wood is paramount to longevity. Also be aware some manufacturers quote the wood dimensions as pre–planed sizes which means BEFORE they have been planed so your quoted framework timber dimensions will be less than you expected.
Mortise & Tenon Jointed Framework Timbers
To create the strongest of frameworks some manufacturers incorporate this system. Consisting of shaping timber one end into a proud, protruding rectangle and hollowing out timber twos end to allow timber one to insert into the cut out. Then the joint is glued to seal it. This provides a framework for your greenhouse that is second to none and if the timbers are thick enough the joints will not twist or warp.
Greenhouse Finishes
Timber used by greenhouse manufacturers usually comes straight from a wood merchants in its raw, natural colour. Even after preservative pressure treating (tanalising) which adds a slight amount of colour and a hint of green from the copper it is still just too light for a greenhouse and should be stained or painted.
Stain
The process of adding colour to your greenhouse this is permanent so make sure you know what you want. Make sure your suppliers uses a good quality stain because when done right, it provides an extra, final layer between your greenhouse timbers and the rain.
Dip Staining
Not all companies use dip staining but it is the best way to stain wood for outdoors. The wood is soaked in stain for a period of 24 hours. This allows the stain time to penetrate and soak right into the timber resulting in a longer lasting colour and extra protection for your wood from Bradford's weather.
Stain Colour
We think dark or medium oak are the best colours for a greenhouse. They both blend well with natural garden surroundings and you still get the option of a lighter or darker look depending on your siting area.
Brush Staining
Although an adequate method of colouring wood, brush staining does not give the timbers enough stain or long enough time to penetrate so the colour will fade much quicker than dip staining and it only provides minimal protection.
Paint
Wood for outdoor use should be painted with a thick based water–proof paint to add maximum protection to the timbers from the elements so make sure you find out which brand and line of paint your potential greenhouse supplier uses.
Paint Colour
We have seen some really lovely coloured greenhouses. Our favourites are the Edwardian colours as they chose simple colours that had a natural element so they blended in well. Shades of pastel greens and blue mixes as well as wonderful grey shades and good old white.
Greenhouse Styles
The higher the glass to timber ratio the more light can get to your plants. Therefore by sourcing a greenhouse with a large glass surface area you are doing the absolute best for your plants.
Classic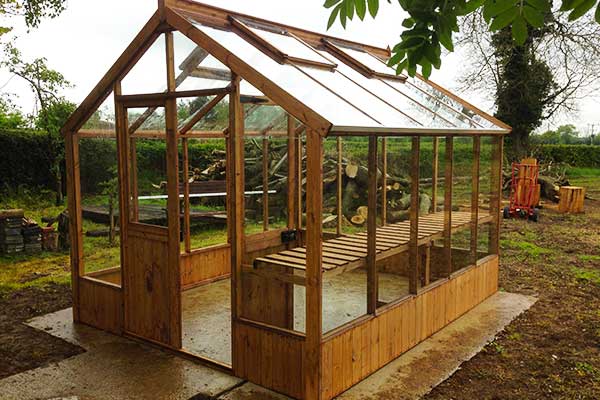 Many manufacturers make their own version of the classic. It is their own design they feel best suits most serious growers and usually have the largest glass surface area of any other greenhouse.
Edwardian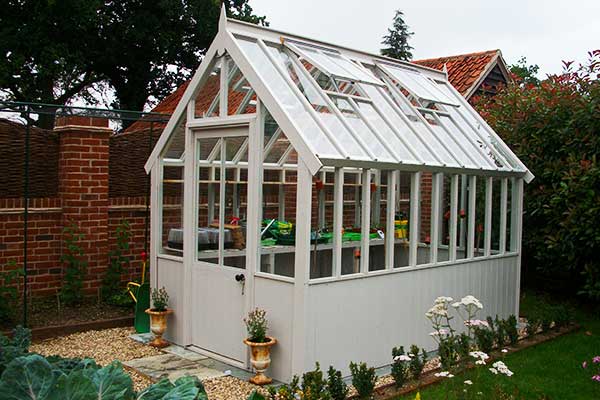 Our favorite greenhouse for looks this is a stunning building with loads of style.
Victorian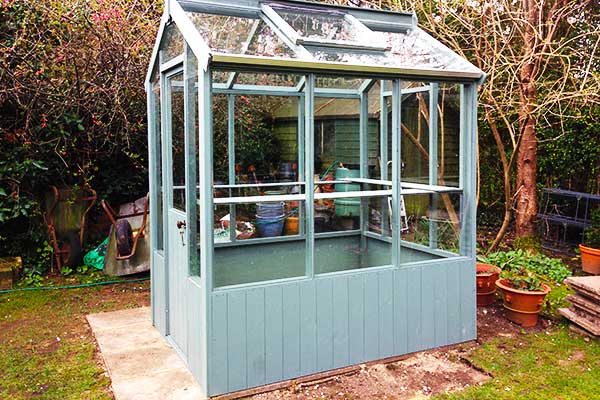 Although our favourite will always be the Edwardian the Victorian is a lovely looking greenhouse and is unmistakable in any garden.
Lean To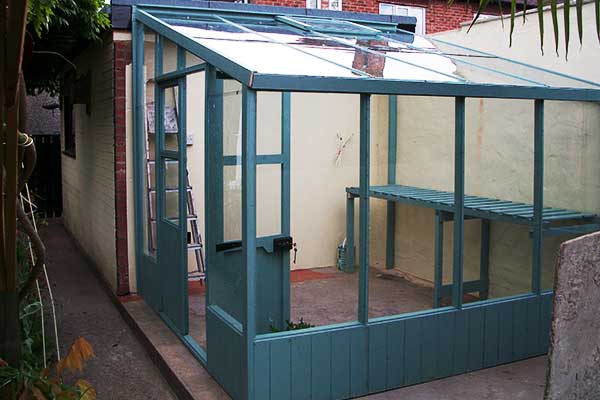 A very cost effective option in terms of money and space they utilise a wall from a building such as your home which saves space and cash as there is only two or three sides to it.
Options
Always check out your greenhouse suppliers optional extras. They are often a lot cheaper than you could implement yourself so add on anything you may use.
Double Doors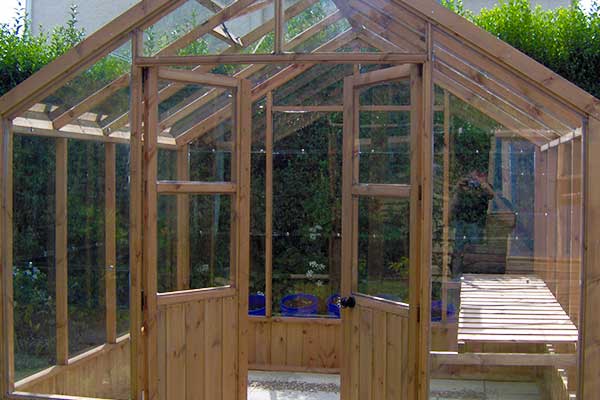 For the serious grower you should treat your self to double opening doors. This will make getting equipment and plants in and out a pleasure and not a bind. Especially larger items like removing harvested fruit and veg plants, water buts and automated water systems.
Automatic Opening & Closing Windows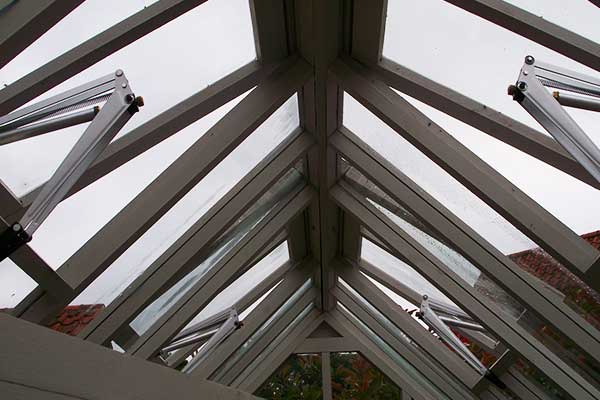 A wonderful invention, windows with this system installed open based on temperature. They even close when the temperature drops and they are usually adjustable.
Plant Staging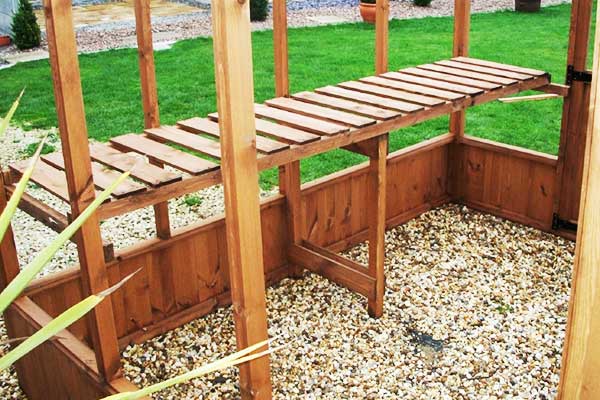 Staging is simply short pieces of spaced wood (to allow drainage) screwed across two lengths of timber with center supports to provide raised grow space. Usually you will get one but its often very cheap to add more so take full advantage of all your space. Bare in mind any plants that need lots of height like tomatoes as they need to be on the floor.
Seed Shelves
Another option many manufacturers offer is seed shelves. Consisting of a small shelf in a perfect spot for your seeds to propagate they are usually cheap so you may as well.
Which Greenhouse Is For Me?
You should choose your greenhouse for its primay function first which is growing. Of course we care how it looks even though this can have a negative effect on growing in terms of yield and quality. You should be more interested in how it's made.
Greenhouses On A Tight Budget
If you are on a very tight budget consider a greenhouse constructed from metal. You can pick them up on auction sites quite cheap so finding out you don't use it wont break the bank. We can't recommend white wood greenhouses because if you find you love growing you will out grow your greenhouse relatively quick in terms of upgrading and longevity.
The Very Best Of The Rest
For a greenhouse that will last for many many years, look amazing, keep its shape and provide superb growing space you should look at redwood timbre framework and panels that are properly jointed using the mortise and tenon and the tongue and groove wood carpentry techniques.